Roald Dahl's Garden Room
Roald Dahl, the beloved children's author, is known for his imaginative and creative stories, but did you know that he wrote all his novels in his garden room? This little shed, located at the bottom of his garden, was a place of great inspiration and productivity for Dahl. Let's take a look at why he chose to write his books there and how they influenced his work.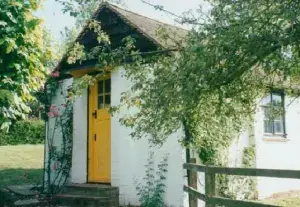 Dahl was an avid writer throughout his life, but it wasn't until he moved to the countryside that he discovered the joys of writing in a garden building. In fact, he famously said, "The writer's hut is the secret of my success." At the base of his yard, there was a humble shack with no power or plumbing, yet it was his own private sanctuary where he could concentrate on his tasks without any interference.
One of the reasons why Dahl loved writing in his garden room was the peace and quiet it provided. He once said, "You get the sense of peace and the feeling of being separate from the world when you're in a shed like this."
It was a space where he could shut out the noise and chaos of the world and focus solely on his writing. Dahl's garden building was not just a physical space, but a mental space where he could enter into the imaginary worlds of his stories and bring them to life on paper.d
Another reason why Dahl loved writing in his garden room was the connection to nature it provided. He was surrounded by trees, flowers, and wildlife, which provided him with a sense of inspiration and tranquillity. Dahl once said, "I love the smell of a freshly built shed. It smells of wood and tools and sawdust." It was a sensory experience that he associated with creativity and productivity. Being surrounded by nature allowed him to connect with his own creative spirit and find inspiration for his stories.
Dahl's garden building was not just a place to write, but also a place to dream. The small shed was a special place for Dahl where he could use his boundless creativity and create the characters and places he is known for. It was a place that spurred his imagination and allowed him to enter a world of his own, where he could think like a child and let his ideas run wild.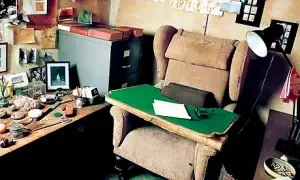 In conclusion, Roald Dahl's garden building was more than just a place to write; it was a place of inspiration, creativity, and productivity. It was a space where he could connect with nature, shut out the distractions of the world, and allow his imagination to run wild. Dahl's garden building was a testament to the power of a quiet and peaceful space to create, dream, and bring to life the magical stories that have enchanted generations of readers.
Roald Dahl is well-known for writing all his novels in a garden building, and it's no surprise that garden studios have become a popular addition to many homes in recent years. At Heritage Garden Studios, we offer bespoke garden rooms that can be customized to fit any need, whether it's a garden office, a writing retreat, a garden gym, or a games room.
Our garden studios offer high-quality, fully insulated living spaces that can be used year-round, and they don't require planning permission in many cases. Our modern garden rooms come equipped with windows and doors that provide ample natural light and a sense of spaciousness, and they're fully insulated to keep you warm and comfortable even in the coldest months.
A garden studio from Heritage Garden Studios is an excellent option for those who work from home, as it provides a dedicated space for work without the distractions of the main house. It's also an excellent choice for those who want to create a space for hobbies, such as a garden gym, home gym, or a writing retreat.
In addition to their practical uses, garden studios from Heritage Garden Studios can also be used as game rooms, providing a dedicated space for family entertainment and fun. With a range of customizable options available, including size, style, and materials, a garden studio from Heritage Garden Studios can be tailored to your unique needs and preferences.
In conclusion, Roald Dahl's garden building was the birthplace of many classic novels, and a garden studio from Heritage Garden Studios can be the birthplace of many exciting new ventures and experiences. With our fully insulated, customizable, and high-quality garden rooms, you can create the space of your dreams without having to leave the comfort of your own backyard.
Links