A small garden office is a type of outdoor garden building typically located in the garden of a home or business.
Following the COVID-19 pandemic, employers realise that employees are more productive and happier when they are not having to commute. New technology allows workers to work remotely and employers know it is cheaper for their employees to work from home.
So, with a move towards homeworking, having a space to work in free from the distractions of daily life is important. A home office in the spare bedroom or dining room is not ideal. It does not allow for a clear separation between home and work life. Additionally, if the household has more than one person working from or studying from home, multiple home offices are required.
So what is the solution? Home extensions are expensive and require planning permission. A garden shed, summerhouse or log cabin does not offer the insulation required for noise reduction or the winter months.
Our Garden Studios provide the perfect home office environment. They are fully insulated, ensuring they are warm in winter and cool in the summer. The double-glazed windows and doors allow plenty of natural light and allow you to enjoy the view of your garden.
Recommended Small Garden Office Size
We recommend a garden office pod of at least 2.1m x 2.1m. This would make a usable office space for one person with a desk chair and shelving. We have tested out smaller sizes; a 2.1m x 1.5m is a squeeze but there is room for a small desk and chair, making this the smallest garden office that we manufacture. Our SIPs panel wall construction means that shelving can be safely attached giving you additional storage options. The starting price for this size is £7182, including VAT and installation within a 45-minute drive time of Doncaster. Check out some of our interiors.
Our small garden buildings can be installed in just a few days if the site that you are looking to place them on is relatively flat and free of debris, water, drainage channels etc. Once an order is placed it usually takes between 4 to 6 weeks for the factory to produce.
In the image below you will see a 2D floor layout for a 2m x 2m garden studio containing a reasonably sized desk, office chair and filing cabinet. If you choose a patio or a single door you can specify them to open outwards ensuring maximum use of indoor space. We also advise adding at least one opening window for ventilation.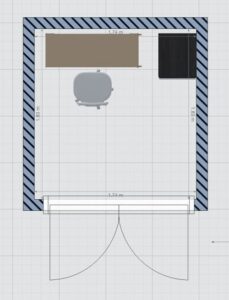 The 3D render images give you more of a visual idea of how your office space would look. We are able to offer garden room design for all projects helping you to maximise your garden space.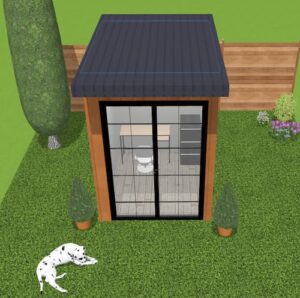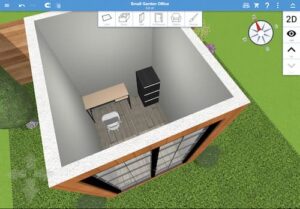 Our modern garden office buildings also have amenities such as full insulation, double glazing, electricity, heating, and internet access to support work activities. These spaces are designed to be quiet and private, allowing individuals to focus on their tasks without interruptions.
What should I consider when building a garden office?
Choose a suitable location for your garden office. Consider factors such as access, natural light, and the size and layout of your garden, paying particular attention to how flat the ground is.
Select a design for your garden studio that is suitable for your needs and the size of your garden. Planning permission is rarely required as long as you adhere to the rules under the permitted development rules. For most, the requirement is that a distance of 0.5 meters is allowed between the garden studio and the boundary/main house and that garden rooms take up no more than 50% of your garden space. See our page on planning permission for more details.
Consider the space that you will require to accommodate a desk, chair, printer, bookcase etc. We recommend a minimum size of 2090mm x 2090mm. This will allow sufficient space to comfortably work from.
Our Garden Studio configurator allows you to design your office space online, choose the doors and windows that you prefer, the lighting, the type of cladding, and electrical sockets and you can even choose to have underfloor heating. Find out more
Consider how many electrical points you require for your computer and printer etc. We will install an armoured cable from the electricity of your main house, the price of this will depend on how far away from the house your Garden office is located.
All our Garden studios are covered by a 20-year roof guarantee and a 10-year structural guarantee. All of the windows and doors are double-glazed and carry a 10-year manufacturer's guarantee.
Self-Build your Garden Office
If you are an avid DIYer we are also able to supply you with all of the components required to build a garden room for self-insulation. Our self-install studios do require at least 2 people to build them and they have a good knowledge of DIY and especially window and door fitting.
Our Garden Studios are uniquely manufactured and designed so that each panel is externally prepared, clad and finished in our factory. Once completed, each panel is designed to interconnect and locate onto a sole plate. This provides a seamless installation process from factory to delivery to your space. Reducing mess, tools and materials. All screws and fixings within the panels are hidden from view to create a completely finished aesthetic. Our pod floors are made from lightweight steel making them easy to handle and hard-wearing, protecting against vermin. Roofs are finished with an EPDM rubber
Complete Bespoke Garden Office
As well as using our garden studio configurator we are also able to offer a complete bespoke design service free of charge.
Simply give us a ring or drop us an email and we will help you to design the garden office of your dreams.
See our terms and conditions for more information.
You might also enjoy